Last month I had some time to sit down with my Wacom Bamboo tablet and I loaded up myPaint to try sketching out some sprites. It has been forever since I've had a chance to draw anything, so I'm a bit rusty. I was looking over some Michael Turner artwork prior to sketching so the sketch is roughly influenced by his style and proportions. I'm leaning towards more of a western comic book approach to the art, rather than something more anime or manga influenced.
I still need to work out a good art production pipeline… myPaint is great for sketching, but pretty bad for editing (as in you can't edit, you can only redraw.) Swapping between myPaint and Gimp on a regular basis may be a bit clunky. I'll have to think on this some more.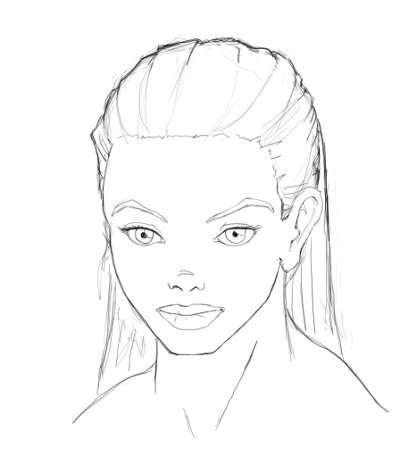 On the coding end of things, I'm almost ready to play with some animated sprites. I had to set development aside for a while since work and life got busy, but I'm feeling the urge to start work on the game again.