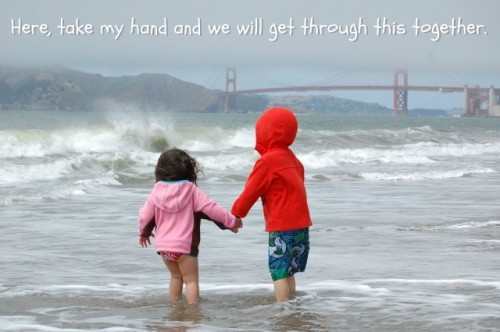 This weekend we bid farewell to the Bay Area.
No longer will I be a "Real Housewife of Silicon Valley". (Not that I was ever really a "housewife" while living here, but that's neither here nor there.) For the time being, my business cards will no longer read, "Girl marries geek. They run off to Silicon Valley and live happily ever after", because apparently that's not how this particular chapter of our story is supposed to end.
It has been a long and trying road. We've gone back and forth on this decision at least a million times (today) and always come back to the same place– one foot out the door, the other firmly planted in the Bay Area.
There were so many factors to consider and directions to possibly go, each with an equally pleasant outcome. Despite our best efforts to make something (anything) work out in Silicon Valley, everything ultimately fell through, and Mike and I had to make the tough choice to move away from a place that we have grown to love so very, very much.
While fighting wave after wave of disappointing news crippled our spirits, it was our children who remained strong. As long as we were all  together, they were happy– giggling at their favorite TV shows, chattering about school and T-ball, debating what do this afternoon… Same old. Same old.
"I love you," I would overhear one say, and the other would respond, "Knock, Knock! Who's there? Banana Phone!" because they are silly like that.
Of course, they have had their share of squabbles, as siblings always do. They fight over the most  ridiculous things… "He's talking to me!… She's NOT talking to me!…  Ahhh, that's MY dinosaur!… She's sitting too close to me!… He kicked my leg!"  How maddening? As if there 's nothing else of note going on in our lives.
On the other hand, it's refreshing to know that to my very young son and my very young daughter, there IS nothing else of note going on in our lives. It's Mike and I who seem to crave the placid, predictable suburban existence of our uneventful youths. All our kids have ever known is a life of being uprooted ever few years and total chaos.  Why should this be any different… and Gaaaahhhh, it's MY turn with the iPad!  
I've also seen how the stress and turmoil of our situation has made them stick together. My daughter is two years old and asks over and over again, "Can we go to our home now?". Each time, I die a little bit inside, which is to say 1.43 billion times a day. I can't stand to repeat the words, "We don't live there any more. We're staying in a hotel until Scout finishes school. We're going to Texas to stay with Lolo and Lola (my parents) until we figure things out."
So it's my son who gently explains it to her for the 1.44th billion time.  It was also my son who cuddled up next to me last night and whispered, "You don't have to be sad any more, Mommy. Lou and I are going to be okay. We have each other."
No matter what, I will always remember the Bay Area as the place where my children became best friends.
I will hold in my heart the way they held one another by the hand and weathered whatever came our way. I know that this experience will make them stronger, bond them closer, and sharpen their resilience… even if it does kill me.