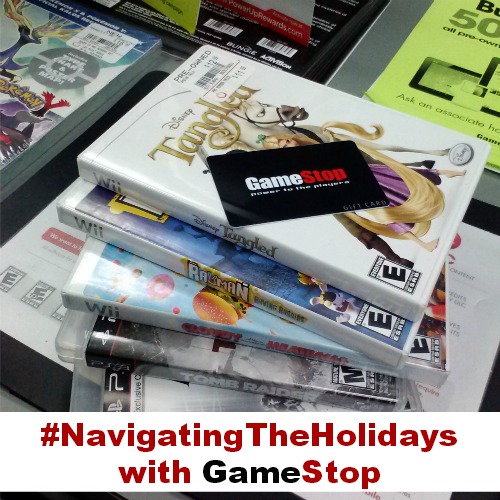 Disclosure: I was hired to host a blogger lunch and learn with Techlicious and GameStop in Dallas, Texas. This post, as well as any related promotion, was compensated as part of this event.  
I grew up in a household full of girls. We had a myriad of dolls and tea sets, instruments and bikes, a few cars and trucks, and a LOT of educational games, but video games were considered strictly the domain of "boys" and were of no merit as far as my folks were concerned. We could sneak in some game time at friends' houses here and there, as for our house… We were barely allowed to watch TV during the school year so a Nintendo? Yeah. No.
Fast forward 10 year later…  
Sitting around a darkened college dorm room, watching my boyfriend and his friends play Bond on a PlayStation. The controllers looks too complicated. How do you know where to go? What do you even press? Oh… I'm dead. Never mind. Video games were completely outside my wheelhouse. They gave me a headache and looked icky. They weren't very fun to watch from my vantage point on the sofa, especially since I wanted to be taken out on a real date. I. Just. Don't. Get. It.
Fast forward another 10 year later…  
I'm the parent now and I get to make the decision around here. Did that sound convincing?  
As a tech writer and blogger, I've eagerly participated in ambassadorships, events, and campaigns for several video game companies. I even found myself at the Game Developers Conference in San Francisco one year. Except for a tiny booth for some Disney tie-ins, it was filled with the same testosterone, CG babes, and dark, dank corners from my "Bond" days. (i.e. Not place for little ones.)
I've been given devices and consoles to review and try out.  However, I was reluctant to purchase any kind of console for my own home because the one question no one could answer for me was, "How does a clueless, non-gamer parent know what titles my kids can and should be able to play? HOW?"
Until video games was something my entire family could participate in and enjoy and I could confidentially monitor, I wasn't interested in having them in my home. This past year, we purchased a Wii, but use it only sparingly since I haven't had a chance to shop for more games. We had a PlayStation from a previous program I participated in, but only my husband played it… and again only sparingly.
When I was contacted to host a holiday blogger event in my area for GameStop and Techlicious, I was delighted to participate because the topics they promised to tackle were as follows:
How to pick the right gaming gifts for any age
How to find the newest titles, consoles & accessories for the holidays
Ways to get even more value at the register
Setting up parental controls and monitoring your kids' gaming
What are ESRB ratings system and how do you use them?
I was surprised to learn that MOST video games being sold are not actually inappropriate for kids… in spite of what the marketing efforts of the major publishers will lead you to believe.
73% of the 245.6 million video games sold in 2011 were rated Everyone (E), Teen (T) or Everyone 10+ (E10+)
91% of games rated by ESRB (Entertainment Software Rating Board ) in 2012 are E, T or E10+
There are some great resources for picking titles for children, including Common Sense Media, PluggedIn.com, and, of course, ESRB. Common Sense Media focuses on titles for younger kids. They drill down by age, content, educational benefit and more.  PluggedIn.com focuses more on titles for tweens and teens. 
I was also surprised to learn that GameStop is the world's largest, multi-channel video game retailer, offering more than 2,500 video game gifts for under $20 and a Buy-Sell-Trade program for new and old games, consoles, accessories, and devices. 
Yes, devices.
The gaming part is in the name… but an iPhone or iPad? An Andorid tab? A Samsung Galaxy? New and second hand models for less? This I did not expect to find at my local GameStop! Most are priced way lower than brand new, but function just as well. So if you are like me and have dying phone, but are currently between upgrades from your carrier, this is awesome news!
GameStop also offers a PowerUp Rewards loyalty program which provides customers unique rewards and benefits, exclusives, extras, and points-earning opportunities for games, consumer electronics, prizes and more. 
So your savings go even further.
You can learn more about on their site, GameStop– look for titles, sign up for PowerUp Rewards, and order online, or follow them on Facebook and Twitter.
Disclosure: I was hired to host a blogger lunch and learn with Techlicious and GameStop in Dallas, Texas. This post, as well as any related promotion, was compensated as part of this event.