Hello. I'm Grace. I'm the older sister of the bride, which means I have plenty of embarrassing stories to tell about her, but I won't do that to her. At least, not tonight…
I actually have an embarrassing story to tell about me.
One of the first times I met Alex was at my son's baptism. I introduced him to all of my friends as the "Flavor of the Month". I think this wedding shows how far my little sister will go to prove me wrong… Ahem!
I was only JOKING, of course. I admit that it wasn't a very nice joke, but a joke none the less.  Alex, to his tremendous credit, took it in stride. The truth is I adore Alex. In fact, I would happily trade Faith for Alex, but now I don't have too. I get to have them both!
I believe I speak for everyone when I say how proud we are to welcome Alex into our family. Officially, that is. It's the same way we've always been proud of Faith.
Growing up, people would always comment how much Faith and I looked alike. I suppose the assumption was that we must have also been alike.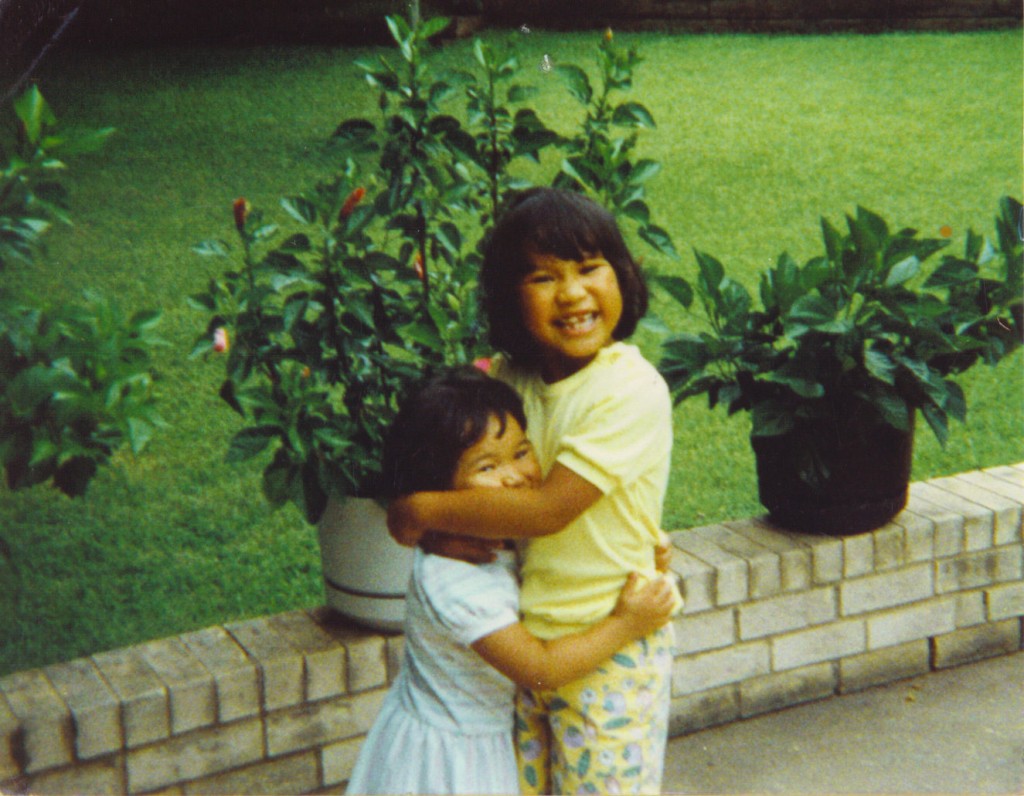 In many ways we are, but my little sister has always known her own mind. I've always admired that about her. She has always been more daring, more forward, and more adventurous. My sister, Faith, has never been afraid to be an individual, but today she begins a new life as part of a "we".
I see all of my sister's best qualities reflected in Alex and vice versa.  For instance, they share a fierce love and loyalty to family and friends. I've witnessed how much Alex and Faith have gone out of their way to make this, their wedding day, a special and fun day for everyone involved. This is just the way they are– putting others first, as usual.
Regardless, I've tried to remind them that this day is about THEM. It's going to go by so fast. Cherish every moment of it. Savor each second. As for all the tiny details that seem so important today- things that didn't go as planned or the way that you had envisioned… Forget about them!
When I think about to my own wedding five… almost six years ago, I barely recall the typo in my program or the flowers that didn't make it to reception or the hundreds of other little things that probably went wrong.
I only think about the joy and happiness that I felt that day. It's the kind of joy and happiness that I hope you, Faith and Alex, are feeling at this moment. Hold on to it. Remember it, especially when you feel challenged or troubled.
Speaking from experience, there will certainly be challenging times. You will have one another, of course, but some days, it will feel like the two of you against the world. So, I want you to take a look around this room, at the faces of the people here today. Every single person is here because they love you. They are here because they support you.
Lord, Faith and Alex. It's July in Texas. So I take that back. We all REALLY love you.
Everyone, let's raise a glass for a toast…
Here's to the past, for all that you have learned.
Here's to the present, for all that you share.
Here's to the future, for all that you have to look forward to together.
Here's to Alex and Faith.
Congratulations!