Last week, not only did I blog (for once), I also happen to be hosting not one… but TWO giveaways.
And the winners were…
For a Samsung Rugby Smart phone from AT&T, it was Stacey Nerdin (@StaceyNerdin) from Tree, Root, and Twig.
By the way, my Wonder Tech Twin, Leticia Barr is giving away a Samsung Rugby Smart too. Enter to win it by sharing your cell phone horror story her site, Tech Savvy Mama, by May 15th.
For the $100 eBay Gift Card just in time for Mother's Day, the winner was… Carmen Nuland (@cmouse01). A girl after my own heart, she plans to spend it on something techy.
A special thank you to all who entered this particular giveaway. We are so pleased to have eBay as a Splash Creative Media client and there are actually two more chances to win a $100 eBay Gift Card at Julieverse at Just Precious and The Centsible Life … but hurry! Their drawing are ending soon.
**************
UPDATE: The winner for the $100 eBay gift card was contacted via Twitter twice and did not respond… So sad!
Congrats, @cmouse01 you won the $100 @ebay GC on my site DM me your name, address and phone number when you get a sec. #eBayMom

— graceduffy (@graceduffy) May 2, 2012
@cmouse01 Hey, you won my $100 @ebay gift card. Woot! DM me by tonight with your info. Otherwise, i'll have to pick another winner :-/

— graceduffy (@graceduffy) May 2, 2012
@cmouse01 Since it's past the deadline, I have to pull another winner for this giveaway bit.ly/IDNyzx Sorry :-/

— graceduffy (@graceduffy) May 3, 2012
I don't like it when this happens, but it's past the deadline and she was given well over 24 hours to respond. Per the rules outlined within my giveaway post, I am drawing another winner using Random.org.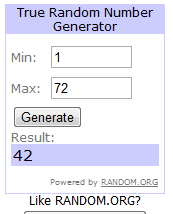 This means the winner is….

 Congratulations, Lolli Franklin (@1momof5) of Better in Bulk. I hope you have a wonderful Mother's Day!!!