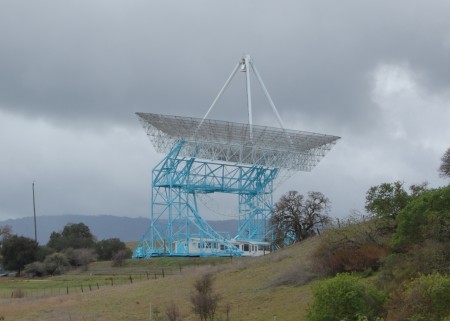 This Leap Day I was invited to make a "Delightful Discovery"… to use the "extra" twenty-four hours to try something new and out of the ordinary!
With Leap Day coinciding with a typical old Wednesday with its early dismissals and karate lessons at 3 pm and dinner at 5pm, blah, blah, blah... that pretty much ruled out driving to Mexico and spending the day at a resort. It certainly would have been "delightful" to "discover" what running away from home would feel like…
So with only an morning to my disposal, I opted for something local, but still new. I decided to walk the Stanford Dish, which is quite literally a giant  radio telescope in the middle of no where-ish in the foothills near Stanford University. This scenic area serves many purposes– research, habitat conversations, environmental restoration, and a jogging trail spanning just a bit over 4 miles.
The circular trail around the Dish offers daunting hills and the best view of the Bay Area. On a clear day you can see all of Silicon Valley, San Francisco, and as far as the East Bay. Just beyond that line of trees is busy little 280, but you would never know it from where I stood.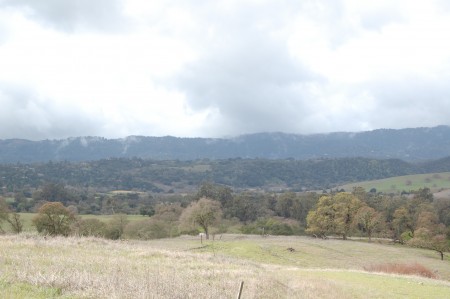 (It's so beautiful and serene that you almost forget that you are actually fighting elbow-to-elbow for space down below and housing prices will make you weep daily. Almost.)
I happened to make the trek on a overcast and rainy day, which I considered my penance for failing at 2012, but more on that later…
It took me just under two hours to walk the four miles of the trail. I was mostly in solitude expect for the occasionally jogger and a man Irish Step Dancing at the top of the trail. I took great glee in his glee at that!
I was in no rush. I stopped to take practice shots for an online photography class that I've been doing lately. I caught up on my favorite podcasts. I cleared my head of all the clutter that I've been dealing with lately. Overall, it was a great day!!!
Interesting to note, cell reception is terrible the closest you are to the Dish, which is another reason that I love this place. No distractions!
——————–
You still have an chance to enter (and WIN!) my Quaker Oats Leap Day Giveaway. Drawing will be held at 11:59 pm PST on Friday, March 2, 2012 and the winner will be notified via Twitter or email.  Enter! Enter! Enter!
——————–
Disclaimer: This post and the Quaker Oats Leap Day Giveaway was sponsored by Quaker Oats. I was compensated for this post, however the thoughts and opinions expressed above are my own and do not reflect those of  Facebook, Quaker or its parent company, PEPSICO. I was asked to discuss my Delightful Discoveries for Leap Day and offer a giveaway to promote their new Honey Nut Quaker Oatmeal Square.