I am not a crafty girl, but when Scout asked me to make him a spider costume for Halloween (and did not change his mind about it for a whole three weeks), I acquiesced.
Of course, I thought that I could get away with pinning black socks to a generic black sweatshirt and say "good day". That was until Mike got involved…
A little background on my dear husband… He went to film school with access to a surplus of googly eyes and fur, costume designers, and actual Hollywood budgets. He works in digital animation now, but there is still no such thing as too much detail or too authentic in his world.
The man spent hours during our first Halloween together creating a mummy costume out of yards of hand-dyed muslin and beading an Egyptian collar.  I would have used single-ply toilet paper from the Dollar General. This is how we differ.
Also, he is a busybody who can't leave well enough alone. My son and I would have be perfectly content with a sweatshirt pinned with socks, but… oh no, not Mike.
So without further ado, I present to you… an overachieving spider!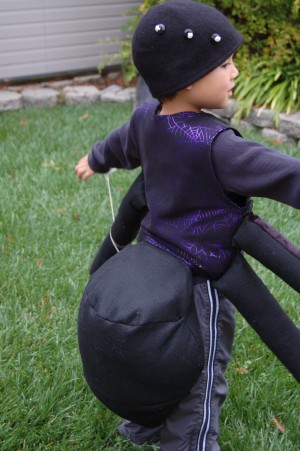 Once Mike got involved, I had to make multiple trips to the fabric store to acquire boning and velvet for the legs, Velcro to attach the bottom,  and pearl buttons for the eyes. Mike designed the pattern and cut the fabric. I stuffed, constructed, and sewed.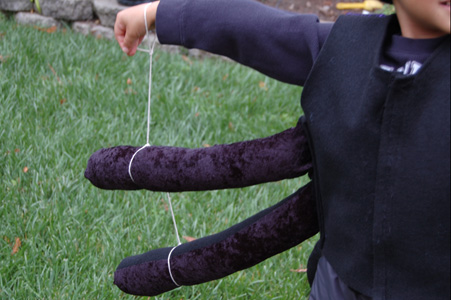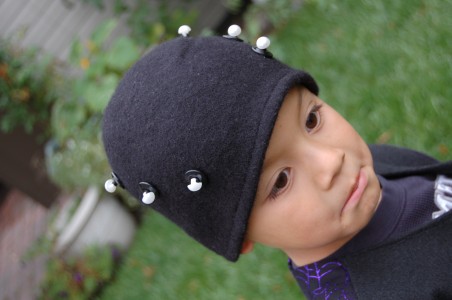 I suppose this is payback for all of the hours of Project Runway that I've made the poor man watch. However, he was quite amused with my Tim Gunn impression. "Make it work!" I kept yelling over my sewing machine.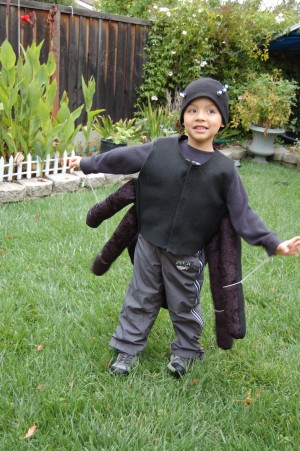 **************
For a girl/sister version of my home-spun spider costume, Katja of Skimbaco conjured up her own "Home Couture" DIY Spiderweb Witch Halloween Costume. A sweet, stunning, and *modest* look for a tween girl.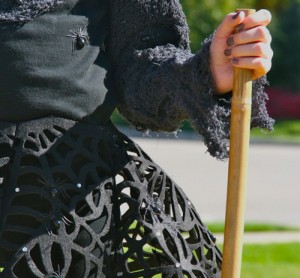 {image credit: Katja Presnal, Skimbaco}