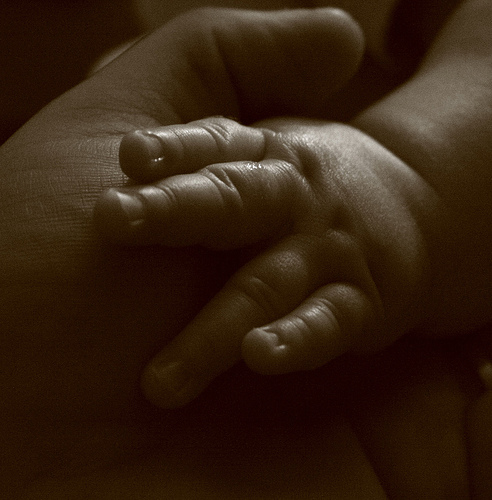 When Mike and I first considered the idea of having kids, I suggested the idea of adopting a child. He was adopted as a baby and has always been so comfortable with the experience… not that he had much say in the matter or known any different.
He grew up in a loving home with a wonderful family. "You grew in my heart, not in my belly," his mother still says to him, never hiding the circumstances of his birth.
She talks sweetly about the day she first saw him as "love at first sight" and "meant to be". She makes no apologies about my husband being her favorite. It's really sweet until I realized that this probably makes me the "lesser half"… (snort)
I've heard story after story of holidays, family vacations, a childhood filled with happy, happy memories… all predicated on the idea that he had been "rescued" by adoption, how lucky he is to have such a great family. It made sense to me that he would want the same for another child, but his response was something that I cannot even begin to wrap my head around.
Having his own children was his chance to find this part of him that he's always missed and always longed to know.
On a certain level, I understand what he means. If you have ever met my parents or my sisters, then you know that I could never fully comprehend it. There is no doubt What. So. Ever. that we belong together. So steeped am I in my family's history and drama and traits, that it's difficult to grasp what it is to live without such an irrefutable feeling of "belonging to these people"…
While no one has ever hidden the fact that Mike was adopted, as far they're concerned, he is theirs and they are his. End of story. Happily ever after.
Or is it?
There's another story that I am curious to know.
Who is the woman who gave up my husband so many, many years ago? What led her to give up the baby she loved enough to carry to term? What has her life been like ever since?
There are moments when this feels like such a great unknown, fraught with far too many complicated emotions. Mostly, it's of little consequence to our daily life together. Yet, sometimes, I wonder… and I know my husband does too.
Unfortunately, it's not my story to tell. I can only be supportive  of whatever he decides.
———————-
This post was inspired by The Girls Who Went Away: The Hidden History of Women Who Surrendered Children for Adoption in theDecades Before Roe v. Wade by Ann Fessler.
An adopted child herself, Ann Fessler embarked on an assignment to uncover hundreds and thousands of stories of the women who were forced to surrender children between 1945 and the passage of Roe v. Wade in 1973.  It's an astonishing and painful read.