Every other week, I rush home from preschool drop-off to let in the cleaning people. They scrub the toilets and dust the bookshelves while I pretend to be invisible in my own home.
Several months ago, it became obvious that I can't handle it all. Painfully obvious. I was killing myself trying to satisfy every need around here, only to beat myself up when I fell short. It had everything to do with the shock of going from one child to two, of moving to a new place, and of having a parnter who works a ton, but I do have to take some responsibility too.
I am a perfectionist. I NEED a clean house or else I go bat. shit. crazy. And I have no plans to get over that anytime soon. So when I begged, pleaded, puuuu-rayed for help and it never came, I did the next best thing. I hired it!
I'm still weirded out by having other people clean my house while I essentially sit around and supervise, but I am even more weirded out by the thought of handing over my house key to complete strangers. (Remember? Trust issues.) So, I just stay out of the way while they work.
They're efficient and are through just in time for me to run out the door again. I get approximately 10 minutes to savor the light aroma of lemon cleaner and admire my shiny counter tops before preschool pick-up.
From  school, I take Scout and Lou to lunch at Le Boulanger's Corporate Headquarters/Bread Factory.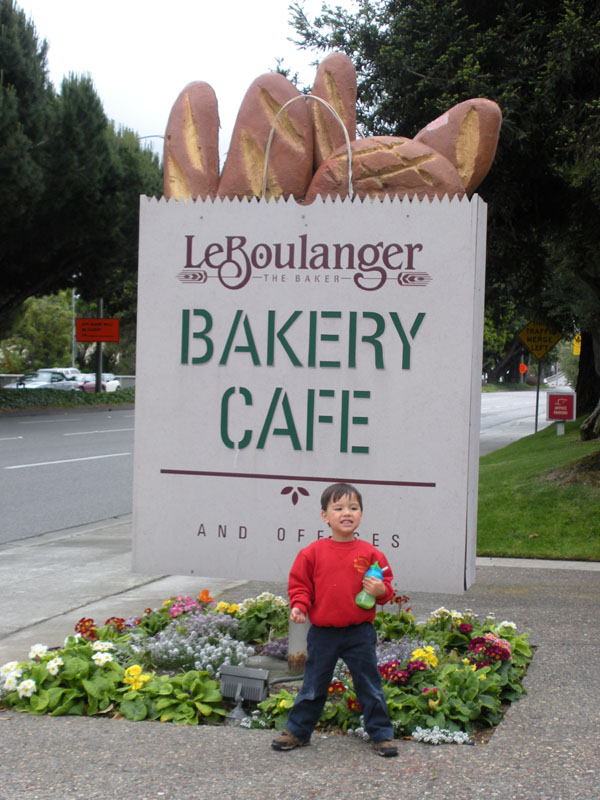 Scout grabs "our table" by the huge windows overlooking the factory while I  go to the counter and ask for "the usual, please."
A turkey cranberry on wheat for Scout and I to split. A water for me, milk and a chocolate cookie for Scout and a sourdough roll for Lou.
The busser knows us by name. "Hello, Mrs. Duffy," he says, "No worries about the mess."  The three of us settle in for a long, leisurely lunch, like a sore thumb amongst the corporate crowd.
Each time, I point out to Scout that the bread he's eating… the bread in his sandwich… was made over there.
And each time, he says, "Thank you for showing me, Mommy. I love it here."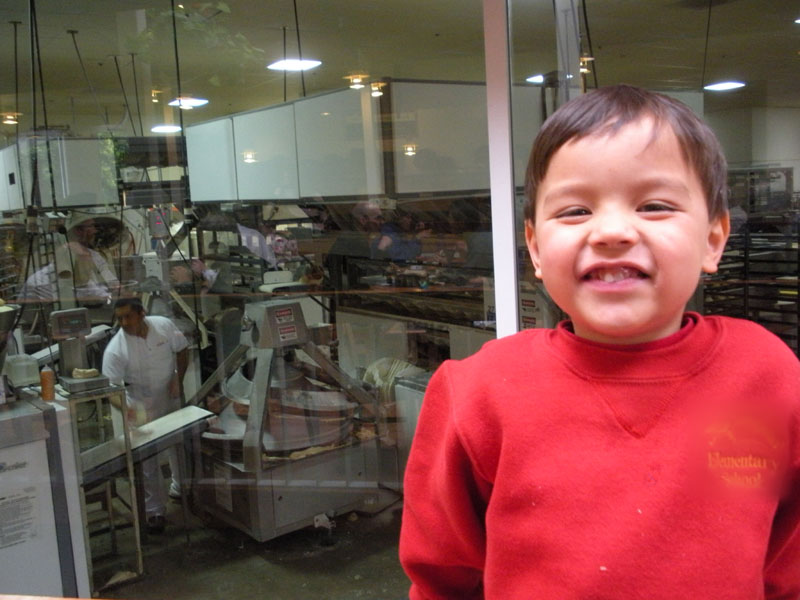 It's our every other Tuesday tradition.
He thinks I do it because I'm an awesome mom. The truth is taking them out for lunch keeps my house clean for that much longer.
(…and they do double stamps on Tuesdays. 12 stamps = free lunch!)